PDF-ShellTools

Interact with your PDF documents directly from the Windows Shell!
PDF-ShellTools is a software that extend the Windows Shell and provide access to several tools to work with PDF documents directly from the Shell environment.
With it we can perform many common tasks with our PDF documents, and without the need to open Adobe Acrobat or any other PDF desktop application.
Directly from the Windows Shell is practical but sometimes it is better if we can control the power the tools provide from batch and script operations, or even, from another application. To allow that it also provides a command line and DLL interface.
The current implementation include the tools:
Shell Context Menu Tools - Accessible from the Shell file context menu, the menu that pop-up when we right click a file in the Windows Shell.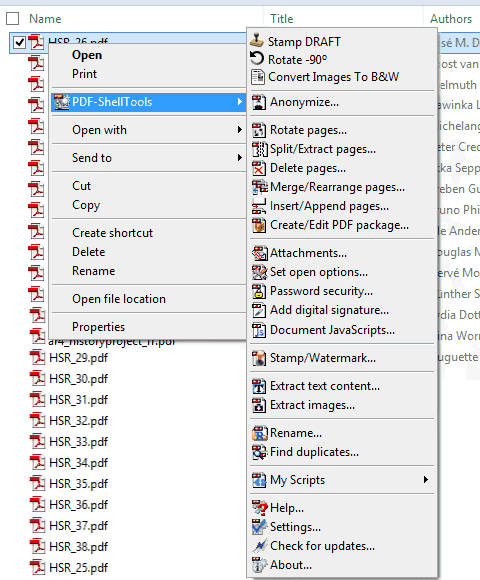 General
For screenshots, and more detailed explanation of the tools features, take a look at the online PDF-ShellTools user's guide.
Select one of the available localizations:
Note: Only the English version of the manual is granted to be updated with the last version features.
And don't forget to download a trial copy from the downloads page, and discover by yourself what this tool can do for you.
Any suggestions, ideas for more tools, feedback and comments, are welcome and won't be ignored.
Join to the Forum, and post your comments, questions on how to achieve a specific task, or to report any problem you may have found.
System Requirements
Microsoft© Windows Operating System, 32-bit or 64-bit
(95/98/ME/2000/XP/2003/Vista/Windows 7/Windows 8.x, Windows 10)